MARCH 2014: British offshore radio is 50 years old
(and we are 14).
As Radio Caroline celebrates its fiftieth birthday this month, we take an extensive ten-part look back at the story of Caroline In The Sixties; we review Ray Clark's recently published book Radio Caroline: The True Story Of The Boat That Rocked; offshore radio historians Dr Eric Gilder and Mervyn Hagger have provided a timeline of the major developments in British broadcasting leading up to the arrival of offshore radio in 1964; and we have more from the archive of the late Rob Olthof - photos of Radio Atlantis's mv Jeanine, Radio Northsea International and various other offshore vessels. See the contents page and DJ Directories of the sixties, seventies and eighties for full details of the website.

The Pirate Radio Hall Of Fame was launched in March 2000, which means we are celebrating our fourteenth birthday this month. We are very grateful to everyone who has contributed or supported us over the years - it wouldn't have been possible without you. And congratulations to Chris and Mary at www.radiolondon.co.uk too, as they celebrate their site's fifteenth birthday.

RADIO CAROLINE NORTH IS BACK!! To mark Radio Caroline's 50th anniversary, a new Caroline North is set to broadcast from the last Liverpool lightship, the LV23, berthed in the Albert Dock in Liverpool. It will operate for 28 days from 31st March and be heard locally on 87.7FM as well as on the internet at carolinenorth.com. The ship will be open to the public 10am to 6pm each day during the broadcasts. One of the people behind the recreation is John Dwyer who was heard on Caroline during the eighties. He said: "We felt it was important to acknowledge the golden jubilee but at the same time celebrate our station, Caroline North, whose part in the Swinging Sixties is often overlooked. While we will not be on air for the anniversary of the start of Caroline on 28th March, this was actually Easter Saturday in 1964, and since Caroline is the Queen of the airwaves there is no reason why she should not have two birthdays and why we should not celebrate her Official Birthday over the coming Easter weekend." One of the DJs involved is Brian Cullen. He says: "I am thrilled to be a part of this venture. Caroline North was the catalyst which fired my enthusiasm for radio and thankfully I made a career out of it. Now its time to give something back and I look forward to joining John Dwyer and his team to help re-create the great sound that was Radio Caroline North."

It isn't just Radio Caroline celebrating a fiftieth anniversary this year. The short-lived offshore radio & TV station Noordzee, which broadcast to Holland for a few months in 1964, is remembered in a new book by offshore historian Hans Knot. 'Het REM-Eiland' is currently only available in Dutch. It can be ordered from the Foundation for Media Communication, Groningen, price €20 in the Netherlands, €23 in Belgium, including postage. For more information, email info@mediacommunicatie.nl.

Frank Wappat, a long-serving presenter on BBC Radio Newcastle, has died at the age of 84 (see BBC). Frank made his radio debut on Radio 390 in 1967, narrating The Al Bowlly Story. For more about his life and career, see frankwappat.com. Here is a short clip from that Radio 390 programme, courtesy of www.azanorak.com, in both RealAudio and mp3 formats.
IT WAS FIFTY YEARS AGO THIS MONTH:
27th March 1964: Radio Caroline began test broadcasts from mv Fredericia.
28th March: 12pm - Radio Caroline began regular transmissions on 1520 kHz, referred to as "199 metres", 6am-6pm.

FIFTIETH BIRTHDAY CELEBRATIONS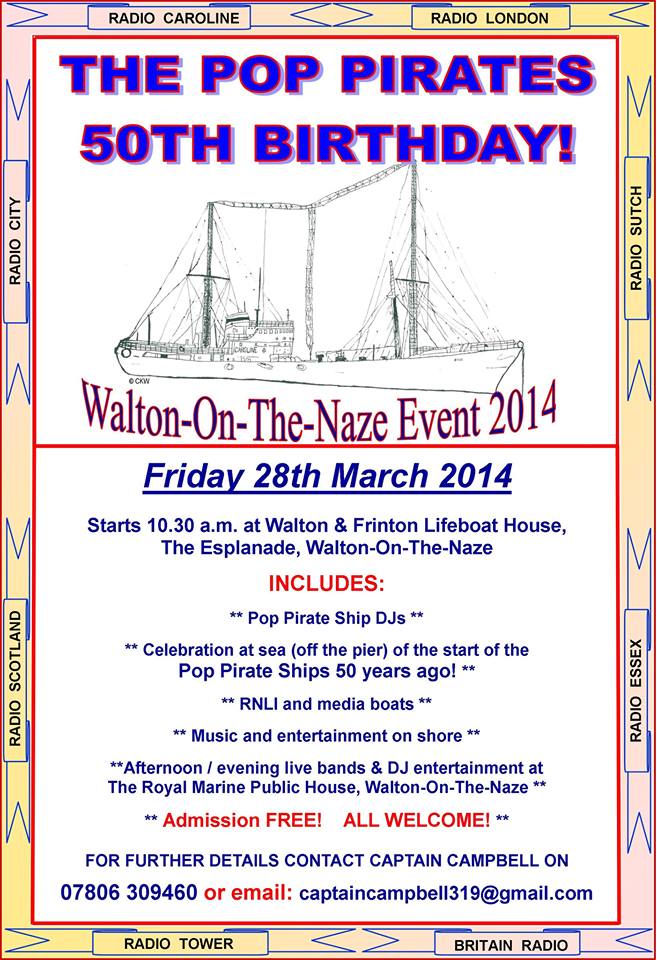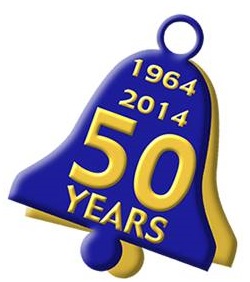 Saturday 8th March 2014: the current incarnation of Radio Caroline is holding a party at The Corn Exchange, Rochester, Kent. All the tickets have now been sold but details are available from radiocaroline50.co.uk.

Saturday 22nd March: The annual Radio Day in Amsterdam has been moved from its usual date in November to coincide with Radio Caroline's fiftieth birthday. Fascinating discussions all day. Full details from www.radioday.nl.

Friday 28th March: a free event at the Lifeboat House on The Esplanade at Walton-on-the Naze, Essex, organised by a former captain of the mv Ross Revenge. See flyer, right. Click to enlarge.

Britain's first offshore radio station, Radio Caroline, began broadcasting at Easter 1964 from a ship anchored just outside UK territorial waters. She was followed by a host of other radio stations based on boats and marine structures dotted around the coast.
These "pirates" rapidly won an enormous and enthusiastic audience. There are other web-sites which tell the stories of the various offshore stations but
The Pirate Radio Hall Of Fame
has been set up to honour the stars, the broadcasters, from that golden era of music radio.
This site is a tribute to the people who endured a daily battle with the elements to provide a soundtrack to the swinging sixties.
The inductees in The Pirate Radio Hall of Fame are listed alphabetically. More names are being added all the time. To find your favourite voice from the sixties either select it from the drop-down list below, search the site using the Google box or click on the appropriate page from the table of contents beneath. For broadcasters from the later decades, go to the Seventies Supplement or Eighties Supplement (still under construction).

&nbsp

We are very grateful to everyone who has contributed information, recordings or memorabilia to The Pirate Radio Hall of Fame. We are always on the lookout for more so, if you have any items of interest, please get in touch.
A number of the photos, stickers and recordings on this site are beginning to show their age. Apologies for those that are of less than perfect quality. Many of the photographs were distributed freely by the various radio stations and were intended for as wide a circulation as possible. Others have been donated to The Pirate Radio Hall Of Fame which are of unknown origin. Where photos have been scanned from books, newspapers or magazines, we have given credit. However, if anybody believes that their copyright has been inadvertently infringed by the inclusion of an item on this site, please get in touch and it will be removed immediately. Similarly, anybody who has supplied audio for The Pirate Radio Hall Of Fame has been credited but tapes get passed from collector to collector and often there is no way of knowing who made the original recording. Our apologies to anyone who thinks their work has been used here without due acknowledgment.

The offshore radio airchecks on The Pirate Radio Hall Of Fame are in two formats: RealAudio and MP3. To listen to RealAudio we recommend the Real Player or VLC Media Player. Recordings in MP3 can be played on both of these as well as a number of others including Windows Media Player and Apple QuickTime.
The name 'Radio London' and the RL logo are used by kind permission of Radio London Ltd.

The Pirate Radio Hall Of Fame links to MP3s which can be downloaded by UK-based customers from Amazon. As in a traditional record shop, Amazon offers multiple versions of some songs. It isn't always easy to identify precisely which version is which. We have endeavoured to ensure that each link leads to the appropriate version of the relevant track - the one that was played by the offshore DJs of the era - but please listen carefully before purchasing. If you discover that any of them are later re-recordings, please let us know.

The Pirate Radio Hall Of Fame participates in the Amazon Europe S.à r.l. Associates Programme, an affiliate advertising programme designed to provide a means for sites to earn fees by advertising and linking to Amazon.co.uk. It is also partially funded by displaying adverts provided by Google. Please note that Google, and their advertisers, may use information (which does not include your name, address, email address or telephone number) about your visits to this and other websites in order to provide advertisements they think will be of interest to you. If you would like more information about this practice, please visit The Google Privacy Centre, where it is possible to opt-out.