| | | |
| --- | --- | --- |
| | UPDATED APRIL 2014. | |
A number of events have been held recently to celebrate the fiftieth anniversary of British offshore radio. We have photos of Radio Caroline's 50th birthday party in Rochester; from the 2014 Radio Day in Amsterdam; and Ray Clark's BBC Essex show and a gathering in Harwich on the actual birthday; also there are more great pictures from the archive of the late Rob Olthof, featuring Radio Northsea International, various disc-jockeys and the two Caroline ships in 1968. See the contents page and DJ Directories of the sixties, seventies and eighties for full details of the website.

Bob Lawrence ('Richard Thompson' on Radio Caroline during the seventies) has written a novel - and offshore radio plays a part in the story. For more details, see thelastgreatadventureforboys.co.uk.

Tony Benn died on 14th March, aged 88. He served as Postmaster General between October 1964 and July 1966 and, as such, was responsible for the then Labour Government's battle with the offshore stations. Obituaries (none of which mention his part in outlawing offshore radio) in: The Daily Telegraph, The Guardian and The Independent.
AND THE CELEBRATION OF OFFSHORE RADIO'S FIFTIETH ANNIVERSARY CONTINUES ....
Radio Caroline North is back, for four weeks, broadcasting from the lightship LV23, berthed in the Albert Dock in Liverpool. It can be heard locally on 87.7FM as well as on the internet at carolinenorth.com.

12 noon on Easter Saturday April 19th sees the launch of The Radio Ship, a new internet station playing music from the sixties, seventies and eighties with the records introduced by archive recordings of DJs from the offshore era, complete with the jingles of the day.

Paul Rowley has made many fine documentaries about the offshore stations and related topics for BBC local radio. His latest, Pirates At 50, will be going out on a number of BBC stations at different times over the Easter weekend. The schedule is here.

BBC Radio 2 has a two part documentary called They Didn't Fade Away which reflects on the impact of offshore radio. Part one is at 10pm on Monday 21st April.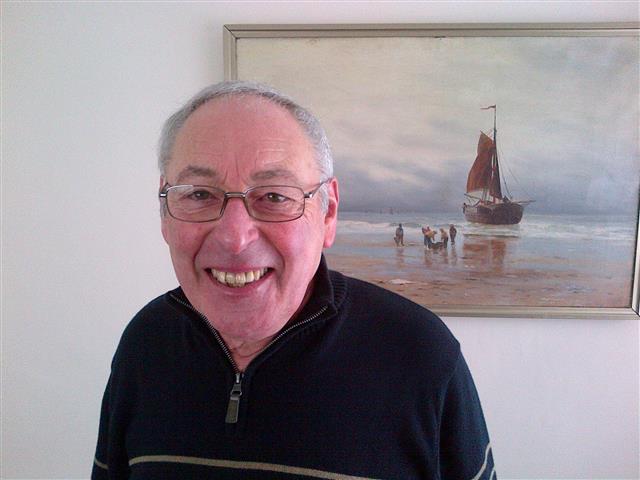 On Easter Monday 21st April at 3.30pm the Irish station Newstalk has a one hour documentary about Radio Caroline and its birth in the harbour of Greenore. The Pirate Port is presented by Declan Meehan and includes interviews with many former Caroline staff members, including Jerry 'Soopa' Leighton (see photo right, taken last month) who, as far as we know, has never previously spoken about his time at sea. Newstalk can be heard on 106-108FM in Ireland, via its website and on Sky channel 0210. (PLEASE NOTE UPDATED TRANSMISSION TIME) (Photo ©Trevor Dann.)

Also on Easter Monday BBC Radio Norfolk devotes its daytime output to shows presented by former offshore DJs: 7am Ray Clark (known as 'Mick Williams' on Radio Caroline), 9am Andy Archer, 11am Tom Edwards, 1pm Keith Skues, 4pm Colin Berry and 6-7pm Pirates At 50 (see above).

There is an exhibition of home movies and personal photographs collected by former offshore DJ Keith Skues at The Forum in Norwich from Monday 21st April to Saturday 26 April. Admission is free and Keith himself will be there at lunchtime on Wednesday 23 April to give a talk about his offshore days, followed by a book signing.

Britain's first offshore radio station, Radio Caroline, began broadcasting at Easter 1964 from a ship anchored just outside UK territorial waters. She was followed by a host of other radio stations based on boats and marine structures dotted around the coast.
These "pirates" rapidly won an enormous and enthusiastic audience. There are other web-sites which tell the stories of the various offshore stations but
The Pirate Radio Hall Of Fame
has been set up to honour the stars, the broadcasters, from that golden era of music radio.
This site is a tribute to the people who endured a daily battle with the elements to provide a soundtrack to the swinging sixties.
The inductees in The Pirate Radio Hall of Fame are listed alphabetically. More names are being added all the time. To find your favourite voice from the sixties either select it from the drop-down list below, search the site using the Google box or click on the appropriate page from the table of contents beneath. For broadcasters from the later decades, go to the Seventies Supplement or Eighties Supplement (still under construction).

&nbsp

We are very grateful to everyone who has contributed information, recordings or memorabilia to The Pirate Radio Hall of Fame. We are always on the lookout for more so, if you have any items of interest, please get in touch.
A number of the photos, stickers and recordings on this site are beginning to show their age. Apologies for those that are of less than perfect quality. Many of the photographs were distributed freely by the various radio stations and were intended for as wide a circulation as possible. Others have been donated to The Pirate Radio Hall Of Fame which are of unknown origin. Where photos have been scanned from books, newspapers or magazines, we have given credit. However, if anybody believes that their copyright has been inadvertently infringed by the inclusion of an item on this site, please get in touch and it will be removed immediately. Similarly, anybody who has supplied audio for The Pirate Radio Hall Of Fame has been credited but tapes get passed from collector to collector and often there is no way of knowing who made the original recording. Our apologies to anyone who thinks their work has been used here without due acknowledgment.

The offshore radio airchecks on The Pirate Radio Hall Of Fame are in two formats: RealAudio and MP3. To listen to RealAudio we recommend the Real Player or VLC Media Player. Recordings in MP3 can be played on both of these as well as a number of others including Windows Media Player and Apple QuickTime.
The name 'Radio London' and the RL logo are used by kind permission of Radio London Ltd.

The Pirate Radio Hall Of Fame links to MP3s which can be downloaded by UK-based customers from Amazon. As in a traditional record shop, Amazon offers multiple versions of some songs. It isn't always easy to identify precisely which version is which. We have endeavoured to ensure that each link leads to the appropriate version of the relevant track - the one that was played by the offshore DJs of the era - but please listen carefully before purchasing. If you discover that any of them are later re-recordings, please let us know.

The Pirate Radio Hall Of Fame participates in the Amazon Europe S.à r.l. Associates Programme, an affiliate advertising programme designed to provide a means for sites to earn fees by advertising and linking to Amazon.co.uk. It is also partially funded by displaying adverts provided by Google. Please note that Google, and their advertisers, may use information (which does not include your name, address, email address or telephone number) about your visits to this and other websites in order to provide advertisements they think will be of interest to you. If you would like more information about this practice, please visit The Google Privacy Centre, where it is possible to opt-out.