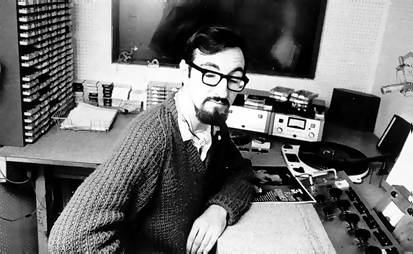 Jonathan Hall Born in East Ham, London, on 22nd September 1938, Jonathan spent the war years living in Leicestershire but returned south, to Romford in Essex, when peace was declared. After completing his education, he joined the RAF for five years and spent some time with the British Forces Broadcasting Service in Cyprus. A car fanatic, after leaving the service, he spent two years working for the Ford Motor company. Jonathan joined Radio 390 on 10th August 1966. His official station biography mentions his interest in cars and says that, at the time he was on 390, he owned two Ford Anglias, a 1935 Morris and a 1934 MG Midget. He was also chairman of the Three Beacons Motor Club. After Jonathan's offshore days were over, he went to Anglia TV as Promotion Department Manager and from there to manage Radio Caribbean International in St. Lucia. He later worked for BBC Radios Merseyside and Solent before becoming a lecturer on business and marketing. He also worked voluntarily as a mentor for the Prince's Trust and was involved in the setting up of a community radio station in Lincoln. Using the pseudonym Max Hunloke, he published a book about his time in local radio: Call Me Max: A Life in Radio in 2017. Towards the end of 2018 he contracted pneumonia and passed away on 20th January 2019, aged 80. (Many thanks to Jonathan Shirley for providing Jonathan Hall's official Radio 390 biography, to George Morris for this Free Radio Association photograph and to Sandra Whitmarsh for her help. There are more photos of Jonathan in Edward Cole's, Peter Berkeley's, Roger Scott's, Graham Gill's and David Sinclair's albums and another recording here.)
Jonathan Hall presenting a 1967 edition of Teatime Tunes. Recording shared by Paul de Haan on The Offshore Radio Club Forum. Our thanks to him (duration 4 minutes 10 seconds)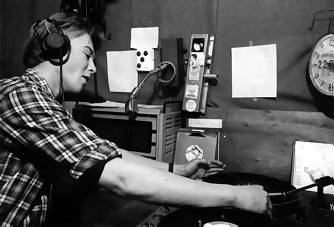 Guy Hamilton From Woodford Green, Essex. While still at school, Guy sent a demo tape to his local pirate Radio Essex. Roy Bates, the station owner, wrote back and suggested that he finish his education before becoming a DJ. In July 1966, after taking his A-levels, Guy joined the station. Life on the Knock John Fort, Radio Essex's home, was fairly basic but it was all good training. Guy stayed as it changed name to BBMS (Britain's Better Music Station) but, when the pay cheques started bouncing, decided it was time to move on. He joined Radio 270 just before Christmas 1966. He was known as "Wise Guy" and ended each show with "T.T.F.N" ("Ta-Ta For Now"). His theme tune was Iechyd-Da by The Alan Price Set. This instrumental was written by John Walters then a member of Alan Price's Set but later famous as John Peel's producer at Radio One. The smallest of the radio ships, 270's Oceaan 7 was the only one to raise its anchor and steam back into port to collect supplies. Initially Guy only stayed with 270 for three months. He left in March 1967 to work in advertising but he also made a couple of short return trips to the ship during holidays from the new job. With 270's closure, he continued his career in advertising while still doing the odd bit of DJ work on the side. By the time commercial radio had become established in the late seventies he was running one of the biggest airtime sales companies in the country, while still finding time to look after the occasional holiday relief DJ stint on one or other of his client stations (Radio Orwell, Piccadilly Radio, Radio Hallam, Radio 210, BRMB and others). In 1981 he became the first Managing Director of Wiltshire Radio. Real name Gerry Zierler, he ran his own television airtime sales company, Zierler Media for many years, representing numerous TV channels across the UK and Europe and was later a director of Anglian Radio, a company which operated five radio stations in East Anglia. There is a short recording of Guy on Radio Essex in David Sinclair's tape collection. There are some more recent photos of Guy, taken at the Radio Academy Celebration of Offshore Radio in August 2007, here. He also attended the Offshore 50 reunion in August 2017. (Many thanks to Guy/Gerry for updating us and for his kind comments: "congratulations on a great website ... all power to your elbow" He has also generously provided some fascinating pictures from his personal photo collection, some memories of Radio 270 and life on Radio Essex and some great recordings. In August 2005 he organised a reunion boat trip out to Radio Essex's old fort, Knock John, to mark the station's fortieth anniversary and has very kindly provided some fantastic photos of the event. There was also this Radio 270 reunion in December 2010. This photo was issued by the Free Radio Association.)
Guy Hamilton on Essex Goes Pop on Radio Essex one evening in August 1966. This recording courtesy of The Offshore Radio Archive (duration 3 minutes 21 seconds)
Guy Hamilton on Musical Magazine on BBMS one Sunday afternoon in late 1966 (duration 4 minutes 14 seconds)
Guy Hamilton closing down Radio 270 for the last time before leaving the station in March 1967 (duration 38 seconds). With many thanks to the man himself for this and the BBMS recording.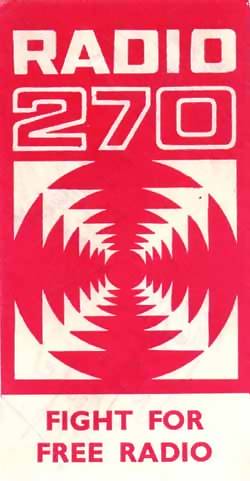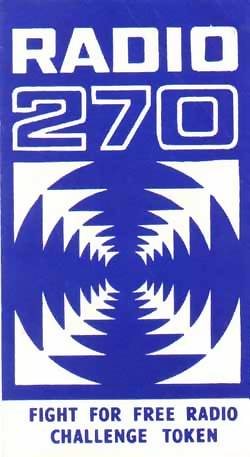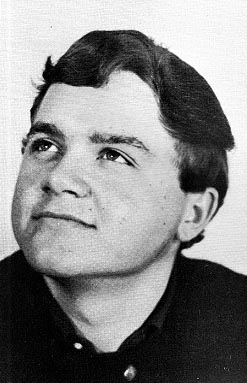 Keith Hampshire Born on 23rd November 1945, in East Dulwich, south London, Keith started in show business while very young. He appeared on stage in a children's dancing show at the age of four. When he was six his family moved to Canada. He became a professional singer as well as working on radio and television. In May 1966 he came back to England and joined Radio Caroline's South ship two months later. Known as "Keefers" his shows were Keefers' Uprising (the Breakfast Show) and Keefers' Commotion (the Afternoon Show). He used a number of different theme tunes. One of them was David's Mood by Jack Eely and the Courtmen with the words "alright you guys, rise and shine" from Reveille Rock by Johnny and the Hurricanes spliced onto the start. He also used Sidewinder by Wes Dakus and The Rebels, a Canadian band with whom Keith once performed. He ended each programme with "join me tomorrow for three solid hours of finger-snapping, toe-tapping, knee-knocking, thigh-slapping, knuckle-cracking, finger-popping, leg-pulling, wrist-twisting, tongue-tangling, foot-stomping rock'n'roll music brought to you by me, Keefers." After the Marine Offences Act became law, Keith left Caroline, returned to Canada and joined station CKFH Toronto, where he worked with another ex-pirate, Errol Bruce. There is an audio clip of Keith on CKFH in the Rock Radio Scrapbook. He has since had a successful singing and television career and now lives in Ontario where he still does voice-over work. Keith has his own website at www.keithhampshire.com. (Many thanks to Keith for getting in touch "live from the shores of lovely Lake Simcoe in Ontario Canada" and for his kind comments about The Pirate Radio Hall of Fame. Keith has also sent some fantastic photos from his personal collection. Keith visited London in May 2005 and met up with some of his old colleagues. There are photos here. There are also some photos of Keith taken at the Radio Academy Celebration of Offshore Radio in August 2007 here and the Offshore 50 reunion in August 2017. Thanks to Stuart Aiken for the theme tune information.)
Keith Hampshire ending "Keefers' Uprising" and starting "Keefers' Commotion" just six hours later. They worked hard these guys! Tape kindly provided by Thule Thulesen who recorded it in Denmark on 10th August 1967 (duration 2 minutes 2 seconds)
Keith Hampshire on the last ever "Keefer's Commotion," 3-6pm on 13th August 1967. Many thanks to the man himself for providing the recording. The voice at the start of the clip belongs to Tom Edwards (duration 2 minutes 16 seconds)
Thanks to Colin Nicol for this rare
Radio Atlanta test transmission sticker.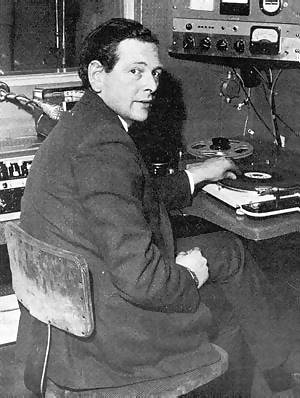 Richard Harris Not the actor of the same name, this Richard Harris was General Manager and a disc-jockey on Britain's second offshore radio station, Radio Atlanta. Although the ship was anchored outside the territorial limit, almost all of Atlanta's programmes were recorded in studios in London so Richard never actually broadcast from the ship. Atlanta launched in May 1964 but times were tough financially and in early July the station merged with the rival Radio Caroline, to become Radio Caroline South. Richard did not stay on with the station under the new arrangement so his career as a pirate broadcaster was extremely brief, although he had fond memories of that era, as can be seen from this interview. He died in a motoring accident in January 1993. (This photo is from 'Broadcasting From The High Seas', published by Paul Harris Publishing. It is from Martin Lynch's collection and has been kindly donated by Lynne Sims.)
Richard Harris presenting the Musical Mailbag show on Radio Atlanta, 27th June 1964. In the early days of offshore broadcasting the legacy of the BBC style of presentation was still very much in evidence. Also apparent on Radio Atlanta were plugs for records on labels owned by station boss Allan Crawford such as the Lynne Collins and Kenny Bardell tracks in this clip. Listener Chris Levy, whose request is included in this recording, has contacted The Pirate Radio Hall of Fame (duration 3 minutes 28 seconds)
The Pirate Radio Hall of Fame needs your

The site is updated regularly and we are always on the look-out for new material to add. If you have any information, photographs, recordings or contact details for any of the disc-jockeys we haven't been able to trace, please get in touch.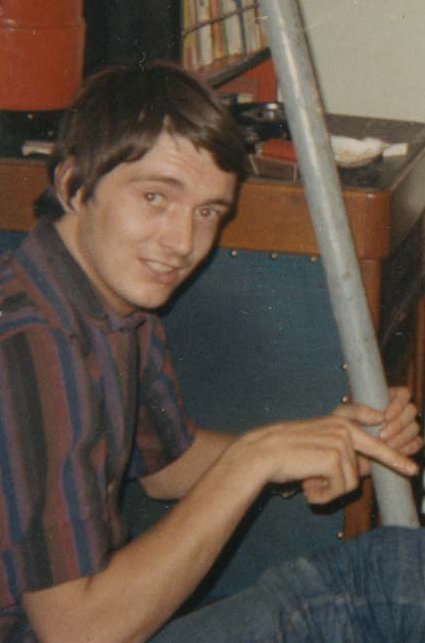 Dee Harrison A 21 year old club DJ from New Brighton on Merseyside, Dee joined Radio Caroline North shortly before the Marine Offences Act came into force on mainland Britain. The new law was about to make it illegal for British subjects to work on offshore radio but Dee took the risk and stayed on Caroline. His theme tune was Eleventy-One by Mike Vickers. Dee was only on the station until October 1967 although his offshore career resumed in 1972 when he joined Radio Northsea International off the coast of Holland. Here he broadcast as Mark Slate a name taken from the sixties TV series The Girl from UNCLE. Mark Slate was the lead male character played by another Harrison - Noel Harrison (see The Pirate Radio Hall Of Fame 'Seventies Supplement'). Andy Wint's book Manx Giant reveals that Dee returned to Merseyside after his offshore career to work at Vauxhall Motors in Ellesmere Port. (We previously wrote that Dee joined Radio Caroline on 14th August 1967 but Nick Bailey tells us this is incorrect. Apparently he started some weeks earlier. Apologies for the error and thanks to Nick for providing this photo of Dee. There is another in Nick's photo album and one in Martin Kayne's album.)
a clip of Dee Harrison on Radio Caroline North from the evening of 14th August 1967. Recording kindly provided by Steve Kirby (duration 3 minutes 19 seconds)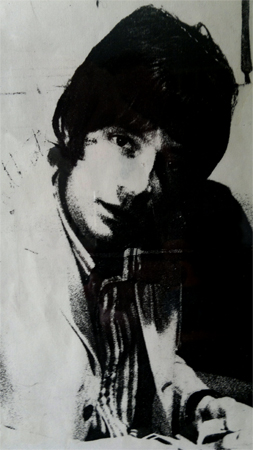 Jonathan Harvey was heard on King Radio in 1965. For many years his name was listed on our help wanted page as we had no information about him but, in June 2012, he got in touch and has now kindly provided some biographical details: "Born in Peckham, south London, in 1942, we moved to the country and I went to public school which I really liked but I was expelled for going into town to watch Elvis's first film, Love Me Tender. (I was the 1113th person to join the fan club.) Art school was followed by J Walter Thompson as a trainee advertising exec. I left that to join the Norwegian Merchant Navy to travel round South America and the West Indies. I then went to London where I had loads of horrible jobs for two years. Eventually things started to get better and in 1964/65 I re-discovered my love of music (and Swedish au pair girlfriends). I regularly went to a club in Hampstead which featured John Lee Hooker and many other US blues players. I was the manager/road manager of a group called 'The Mickey Finns'. During this time I met a musician called Eric. Our girlfriends shared a flat off Fulham Rd. I met him again in 1972/3 in the Bag O'Nails night club at 2am. By that time he was a millionaire superstar and we had a great night together! As my girlfriend was au pair to (fashion designer) Barbara Hulaniki, one morning I agreed to sort out the problem of shoplifting from her shop Biba on Kensington Church Street - and did. Later I went with another Swedish au pair girlfriend to a flat in Chelsea Cloisters where her employer was one Mike Raven. He was the first person I had ever met who only ever wore black, as did his wife Mandy. My first time at his flat, he came up to me after about half an hour and asked if I was I working and, if not, would I like a job. The answers were no and yes. He took me to a small room, his studio, sat me down and said 'talk for 3 minutes, the tape is running'. I did and was offered a job as a DJ on King Radio. The terms were 3 weeks on, 1 week off. They already had a DJ called John McGowan and my real surname was considered too similar so I became Jonathan Harvey. The living conditions were OK. I remember being on air one afternoon and being told by the engineer that there was a problem outside. (I should say here that I had represented my school at Bisley and so was in charge of the three rifles we kept on the fort.) I put on an LP and went outside to find a Royal Navy gun boat had come to remove us all from 'government property'. My immediate response was 'right, break out the Winchesters'. So I stood at the top, uniformed sailors below, threatening to come up and arrest us. I realised that a fire-fight was totally out of the question so I told someone to get a five gallon jerry-can of diesel and, as the sailors started the long climb up (it was low tide) I poured diesel down the ladder to make it slippery. Some of the diesel went onto the deck of the gunboat which made the sailors really angry. However it did the trick and, to protect their boat, the Navy pulled away shouting 'you b....... we'll be back, you wait, etc.' They never came back and didn't arrest anyone when we came ashore. I don't remember why I quit but soon afterwards I went on a road trip to Italy with some friends in a Cadillac Eldorado Biarritz de Ville convertible. I ended up in Rome, broke, but that's another story!" (Thanks very much to Jonathan for his memories and the photo. Can anyone supply a recording of him on the air?)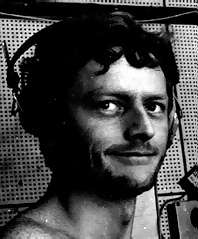 Mike Hayes Like so many of the offshore stars of the sixties, Mike got his first taste of radio while serving in the forces, in his case in the RAF. He was stationed in the Middle East and broadcast in his spare time with the Aden Forces Broadcasting Association. On his return to the UK, he looked around for more radio work and had a brief spell on Radio City. But it was with Radio 270 that he really made his mark, joining in 1967 to present The Mikey Mo Breakfast Show and Mikey Mo's Evening Show. He writes: "It may be interesting to know that Paul Burnett and I were in the RAF in Aden at the same time and both worked on the Aden Forces Broadcasting Association in 1964/65 and in fact did a 'humourous/satirical' show together for a while called Saturday Review. When I read in 1966 that some DJs had been fired from 270, I rang Paul and got one of the jobs. Funnily on 270 we never worked together, we did the same shows on alternate weeks. Breakfast open-up till 9.00 and afternoons 15.00 till 18.30. It was a great year 1967." Mike's theme tune was There Is A Rainbow Round My Shoulder by the Ted Heath Orchestra. He was on shore-leave at the time of the station close-down. He had intended to return to the ship for the last day but, as can be heard on the Vince Allen audio clip, bad weather prevented this. Instead Mike used his contacts with the RAF. He persuaded a helicopter pilot to fly out over the North Sea and drop a bag of pre-recorded goodbye messages to the guys on the ship. Packed in with the tapes was a note warning the DJs not to mention how they had been delivered. Unfortunately the bag did not land on the ship. It landed in the sea and sunk. The farewells never arrived, nor did the warning. Unaware of the message, the disc-jockeys thanked the helicopter pilot on air for his efforts. As a result, questions were raised in the House of Commons about what the RAF was doing supplying a pirate radio ship! After his time at sea, Mike moved to Germany. He now lives in Holland and told the Radio London website "I'm retired from real work and am working in movies and TV now and then." He has a website which includes some recordings dating from his time on Radio 270 at www.mike-hayes.nl and one featuring his paintings at www.mikesgallery.info. (Free Radio Association photo kindly provided by George Morris. There are more pictures of Mike in Guy Hamilton's, Roger Scott's and David Sinclair's Radio 270 photo albums. There are also some recent pictures of Mike at a Radio 270 reunion in December 2010. Many thanks to Mike for the email.)
Mike Hayes on Radio City from the summer of 1966. Tape kindly provided by Ray Andrews (duration 1 minute 21 seconds)
Mike Hayes on two Radio 270 promotions for the Guy Hamilton show. Recording courtesy of Gerry Zierler (duration 51 seconds)
a clip from the Mikey Mo Breakfast Show on Radio 270, Sunday 25th June 1967. Tape kindly provided by Martyn Webster (duration 2 minutes 45 seconds)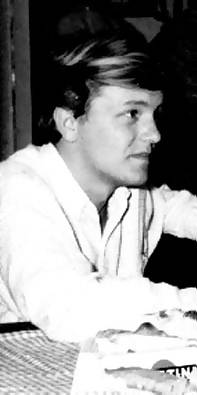 Phil Hayton was born in 1947 in Yorkshire and educated in America and Britain. After leaving school he planned to spend two years doing Voluntary Service Overseas in Jordan but, when the Six Day War broke out, this was cut short and he had to come home. He needed something to occupy his time and, being interested in broadcasting, wrote to Wilf Proudfoot, the Managing Director of Radio 270, asking for work. He was offered the job of newsreader with the princely wage of £8 per week. Phil joined the ship in the spring of 1967. As well as reading the news, he also got involved in the making of commercials and ended up presenting some shows as well. He claims he got his first programme because one of his colleagues decided he had enough, jumped over the side and started to swim for shore! Fortunately he was picked up by a fishing boat who took him the rest of the way but it left the ship one man short. Phil took over. His theme tune was Countdown by Dave 'Baby' Cortez. Phil was fortunate that he never suffered from sea-sickness because the Radio 270 ship was notoriously bouncy. On one occasion Phil was the only broadcaster in a fit state to present shows and had to take care of the entire day's output single-handed. He stayed with 270 until the closedown in August 1967. Following the legislation the BBC opened up the first of its chain of local radio stations and Phil joined Radio Leeds, intending to stay for the summer before resuming his education. His plans changed when they offered him a job as a producer. He went on to work for the BBC for 37 years, mainly in television. For ten years he presented BBC-1's main news bulletins, later appearing on News 24 and BBC World. He abruptly quit the Corporation in September 2005 because of a personality clash with a colleague. Details on the Guardian website. (Many thanks to Phil for his help compiling the above information and to George Morris for the photo, issued by The Free Radio Association.)
Phil Hayton on Radio 270 on the night of 9th August 1967. Recording shared by Hans Hendriks on The Offshore Radio Club Forum. Our thanks to him (duration 4 minutes 20 seconds)
Phil reading the 9am news on Sunday 25th June 1967. Tape kindly provided by Martyn Webster (duration 1 minute 15 seconds)