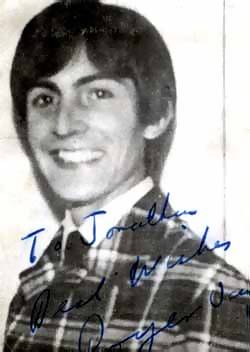 An early Radio England publicity photo, autographed.
Roger joined Swinging Radio England at its launch in May 1966. Although the programme schedule changed almost daily, he usually presented evening programmes which proved very popular.
Roger on the 6-11pm show from autumn 1966 - near the end of Radio England's brief existence (duration 2 minutes 47 seconds)
A publicity photo of the first Radio England team. Left to right: Ron O'Quinn, Brian Tylney, Colin Nicol, Larry Dean, Rick Randall, Johnnie Walker and Roger with Jerry Smithwick in the driving seat. Photo courtesy of Ron Vick and Grey Pierson.
By the time Radio England closed down in November 1966, Roger was the only surviving member of the original team.
Roger saying goodbye during the last hour of Swinging Radio England (duration 2 minutes 32 seconds)
After Radio England closed Roger worked in boxer Billy Walker's 'Uppercut Club' before returning to the air on Radio Caroline South.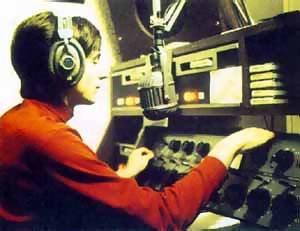 In the Radio England studio. Photo © C.Richardson from 'Offshore Echo's' magazine
Roger presenting the 9am-noon show on Caroline South in early August 1967 (duration 4 minutes 36 seconds)
Roger left the ship on 14th August 1967, just before the introduction of the Marine Offences Act, because he had to renew his passport. He returned soon afterwards.
Roger presenting the American Hot 100 show on Radio Caroline International, one Sunday lunchtime in early 1968 (duration 2 minutes 17 seconds)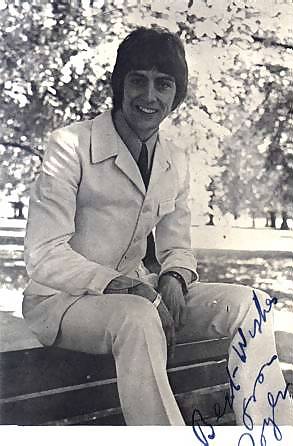 Autographed photo, courtesy of Raoul Verolleman.
One of the most fondly remembered features of Radio Caroline South's programmes was Frinton Flashing. Listeners on land would communicate with the disc-jockeys on the ship by flashing their car headlights:
Roger, out on deck, translates the messages from the flashing headlights while Andy Archer plays the music in the studio (duration 1 minute 31 seconds)
On Saturday 2nd March 1968 Roger announced that the station would be off the air on Monday. What he did not know was that by then the ship would be silent, having been hijacked by creditors.
Roger on his last Breakfast Show on Caroline South, 2nd March 1968 (duration 1 minute 31 seconds)
With Caroline silenced, Roger joined Radio Luxembourg.
Roger closing Radio Luxembourg for the night (duration 41 seconds)
As soon as offshore radio returned, Roger was there, with the launch of Radio Northsea International in 1970.
On board RNI, left to right: Andy Archer, station boss Edwin Bollier and Roger. Photo courtesy of Duncan Johnson.
Roger opening Radio Northsea International on 28th February 1970 (duration 28 seconds)
Roger spent six months with RNI. He was heard once, on a pre-recorded programme, on Caroline in 1973 but, with commercial radio launching on land, that was the end of his offshore career.
In the RNI studio, from the Northsea Souvenir Book, published by Hit-Publications, Switzerland