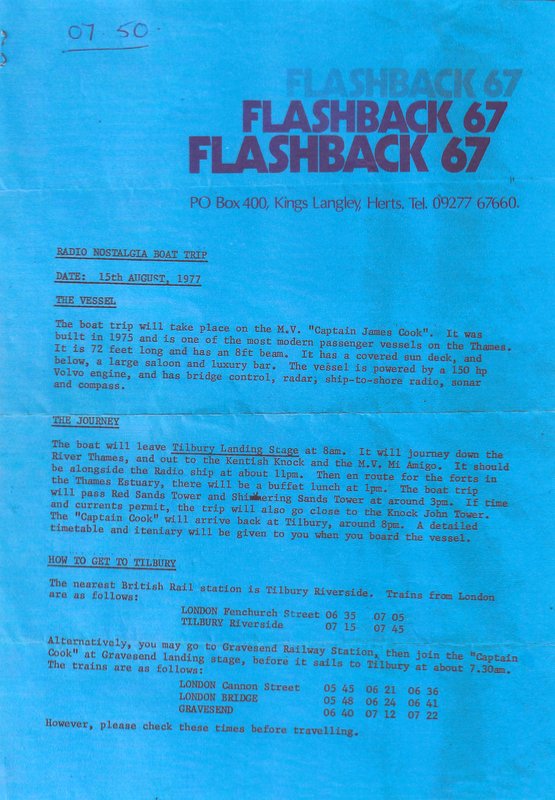 Details of the boat trip. Thanks to Ray Clark for the leaflet.
On the day after the convention, Monday 15th August, there was a 'radio nostalgia' boat trip organised. The route included some of the anti-aircraft forts in the Thames estuary which had been used by offshore stations in the sixties and then on to the mv Mi Amigo. Ray Clark was on board: "We left around 8am from Tilbury and it took forever. We bounced out via a couple of sandbanks and I think we got lost a few times. The boat was a Thames tourist boat - good job the seas were calm. Following my 'success' in the quiz, I was asked to help with commentary when we got to the towers. I think (former RNI DJ) Mark Stuart was doing the PA and onboard disco. (Offshore engineer) Mike Bass was there too. I remember when we got to the Mi Amigo the on-board system was belting out Caroline and those great Mi Amigo jingles from the time and Mark was talking to the ship. Stuart Russell replied via on air."
A mix of two tapes - an off-air recording and one made on the Flashback '67 boat. Caroline DJ Stuart Russell and Radio Mi Amigo's Marc Jacobs are up on the deck of the Caroline ship, Roger Mathews is in the studio. The other, muffled, voice is Mark Stuart who is speaking over the pleasure boat's PA system. Thanks to Ray Clark and Stuart Russell (not the DJ, another one) for providing the tapes (duration 4 minutes 35 seconds)

As Nik Oakley has mentioned, the exhibition boards of offshore memorabilia that were compiled for Flashback '67 were later sold on eBay. They were bought by Chris Dannatt of Pirate Memories who, after giving them a good clean, has made them available to the public again at a number of events, including the Radio Academy Celebration of Sixties Offshore Radio and on the Ha'penny Pier in Harwich for the Pirate BBC Essex broadcasts there.
| | |
| --- | --- |
| | |
| | |
| | |
| | |
| | |
| | |
| | |
| A selection of photos, kindly provided by Hans Knot, of the Flashback '67 display boards at the Radio Academy Celebration of Sixties Offshore Radio event in 2007. | Norman St.John in front of a vintage shot of himself in the Big L studio, taken at the Flashback '67 exhibition on the Ha'penny Pier during one of the Pirate BBC Essex broadcasts. Thanks to Ray Clark for the photo. |
With many thanks to Nik Oakley, Ray Clark and Hans Knot.
Back to previous page.