Part Seven: The return of daytime programmes - and the Mi Amigo gets stuck on a sandbank.
On 28th March 1976 Radio Caroline celebrated its twelfth birthday with a Top 50 album countdown presented by Chris Elliott and James Ross. The number one album was The Beatles' Sgt Pepper's Lonely Hearts Club Band. (The full Top 50 is here.)
Chris Elliott starts and James Ross finishes the "All-Time Top 50 Albums" chart on Caroline's twelfth birthday, 28th March 1976. The Chris Elliott recording is courtesy of www.azanorak.com, the James Ross one was shared on The Offshore Radio Club Forum by Hans Hendriks. Our thanks to them both (duration 4 minutes 17 seconds)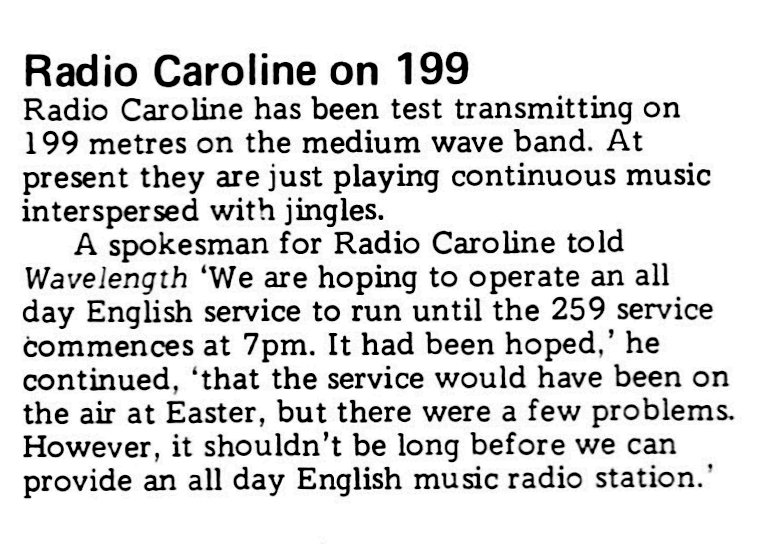 'Wavelength' magazine reports the daytime test transmissions.
Around this time Caroline resurrected plans for an all-day English service. At the end of March tests were carried out on the old frequency of 1520 kHz, usually referred to as "199 metres". Tests began properly on 5th April on another frequency, Veronica's old spot on the dial: 1562 kHz, 192 metres. Non-stop music tapes were played and, although only putting out about 6kW power, reception was good over most of south-east England. It had been hoped that this new service could start at Easter but things were not ready in time. The tests continued intermittently.

From 8th May the 192 tests went 24 hours a day, relaying the programmes going out on 259 metres through the night to complement the non-stop music by day. On 14th May the first daytime voice was heard on 192. Long-time offshore favourite Tony Allan had returned to the Caroline airwaves the previous night and during the morning he presented a live show on the new frequency before returning to the tapes.

Full programmes began the following morning. "Europe's first and only album station" was at last operating 24 hours a day: on 192 during the day, 259 at night. The profitable Radio Mi Amigo continued to use the more powerful of the transmitters on 259 during the day. The fans had been waiting a long time for daytime Caroline and the new service was well received.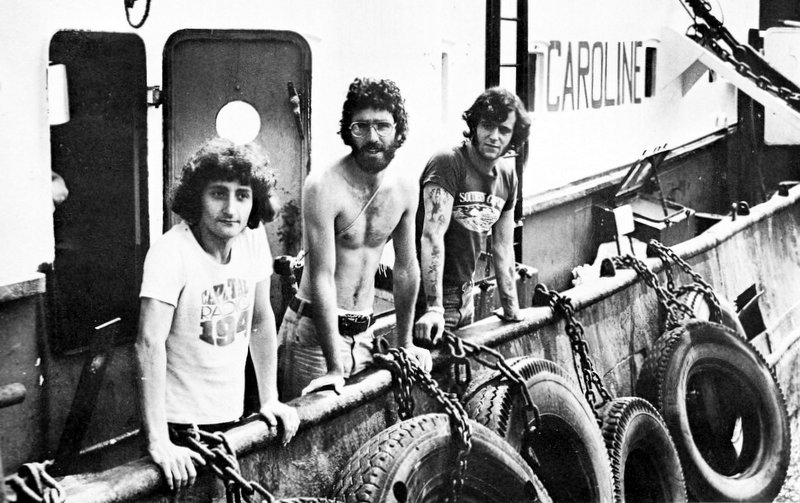 Left to right: Kenny James (also known as Jimmy James and Kenny Page), Jonathan Day and Tom Anderson. Photo from the 'Radio Caroline Picture Souvenir Book' published by MRP Books.
Mark Lawrence on the Breakfast Show from day one of the new Caroline daytime service, Saturday 15th May 1976. This is an edited version of a recording available from www.azanorak.com. Our thanks to Ray Robinson (duration 1 minute 49 seconds). The first track heard here, Costafine Town by Splinter was released on George Harrison's Dark Horse label, a record company whose releases were consistently supported by Radio Caroline.
Caroline began running commercials (for Jumbo Records and Tapes) on 11th June. They were joined on the 13th by two more campaigns. These, for Levi's Jeans and Wrigley's Gum, had both previously run on official commercial stations so it was impossible to know if they had in fact been booked onto Caroline - and paid for - or if the station was up to its old trick of camouflaging genuine commercials with unordered ones. Others followed: 4711 Eau de Cologne (another old ILR advert) and some American radio commercials for Coca-Cola, Budweiser beer and Mazda cars. Also advertising was a Norwich record shop. There was extensive promotion for the debut album from Ronan O'Rahilly's Loving Awareness Band which he initially called "The Beatles". (See part 5 of 'Caroline In the 70s' for more about Loving Awareness.)
Tony Allan in a relaxed mood on a sunny Sunday morning, 27th June 1976, playing a long commercial for the Loving Awareness album. Recording kindly provided by Hans Knot (duration 4 minutes 58 seconds)
Four shows from the same day, thought to be 28th July 1976, starting with Mark Lawrence on the Caroline Breakfast Show (duration 3 minutes 24 seconds)
Kenny James from the 9am-noon programme, and possibly getting the date wrong (duration 3 minutes 49 seconds)
Jonathan Day from the 12-3pm programme and he doesn't know the date either. Although he says he thinks it is 26th July, he also says it is a Wednesday which would make it the 28th (duration 3 minutes 16 seconds)
Steve Kent from the 3-6pm show on the same day. All four clips are taken from recordings posted by Vincent on the Internet Radiocafé, now known as the Radiotrefpunt (radio meeting point) forum. Our thanks to him (duration 3 minutes 43 seconds)
SOME 1976 RADIO CAROLINE PROGRAMME SCHEDULES

6am-8pm: 192 metres, 7pm-6am: 259 metres.

29th May-5th June 1976
3rd-24th August 1976
2nd-9th September 1976


6.00am James Ross
9.00 Tony Allan
12.00pm Jonathan Day
3.00 Samantha Dubois
6.00 Stuart Russell
9.00 Tony Allan or James Ross
12.00am Jonathan Day
3.00 Samantha Dubois or Stuart Russell (-06.00)




6.00am Stuart Russell
9.00 Steve Kent
12.00pm Brian Richards
3.00 Samantha Dubois
6.00 Steve Kent
9.00 Stuart Russell
12.00am Brian Richards
3.00 Samantha Dubois (-06.00)

All times BST/CET.



6.00am Mark Lawrence
10.00 Ed Foster
2.00pm Tom Anderson
6.00 Ed Foster
9.00 Mark Lawrence
12.00am Tom Anderson
3.00 or 4.00 Non-stop music (-06.00)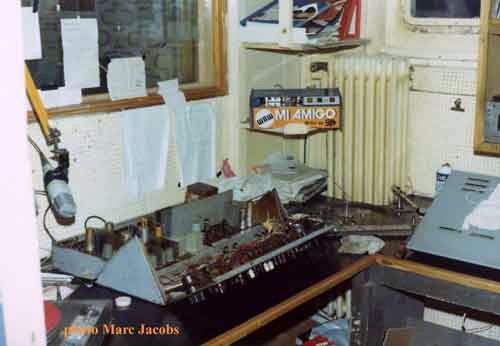 Radio Mi Amigo's waterlogged studio. Photo by Mi Amigo DJ Marc Jacobs, kindly shared by Hans Knot.
On the evening of 14th August 1976, Stuart Russell marks the ninth anniversary of Radio Caroline going illegal with a few old songs and classic jingles (duration 3 minutes 23 seconds)
On 10th September the mv Mi Amigo dragged her anchor in a force 8-9 gale. A giant wave smashed through a port-hole and water gushed into the Radio Mi Amigo studio, rendering the equipment useless. Water also managed to get into the cabins, record library, etc..

Radio Mi Amigo continued broadcasting, using the Caroline studio. The same output was transmitted on both frequencies: a couple of Mi Amigo's pre-recorded shows and some non-stop music. At 7pm the normal Radio Caroline programmes resumed but at 8.35pm DJ Ed Foster gave out a distress call for the staff on land. He revealed that the ship had drifted onto a sandbank and assistance was required. This message was repeated but, under instruction from chief engineer Peter Chicago, the appeals for help stopped after a couple of mentions.
Ed Foster opens up the programmes of Radio Caroline on the evening of 10th September and describes why the station has been off the air. Recording shared on www.azanorak.com by Bill Rollins. Our thanks to Bill and Ray Robinson (duration 3 minutes 35 seconds)
Programmes continued as normal, without the disc-jockeys mentioning their predicament again, but regular listener Buster Pearson could tell the situation was serious. Writing in his magazine Monitor, he described that evening: "After a while, we began to wonder if we really had heard that message (about the sandbank), for the programmes continued as normal, and neither Ed nor Mark Lawrence, who took over at 22.00, nor Tom Anderson, who commenced his show at 01.00 on Saturday morning made any further reference to it! At 23.00, we listened to a BBC shipping forecast. This reported 'southerly gale, force nine, imminent, Thames estuary'. Only one conclusion could follow that: after a day of gales, another on its way with the ship on a sandbank could only mean that the Mi Amigo was in a most precarious position and everyone on board was in for a very bad night. At approximately 00.40, the 192m transmitter went off the air, hours later than usual. As we listened to Tom's programme we could clearly hear his chair sliding around; we could hear the regular clanging of the broken anchor chain as it struck again and again against the steel hull of the radio-ship; we could also hear records tumbling out of their racks. The noises built up in intensity, showing that the storm was reaching its climax. And then, at 03.23 BST/CET, the transmitter went into a violent shuddering; died; and 259m was silent." The aerial feeder had snapped.





Radio Mi Amigo's waterlogged studio. Photos by Marc Jacobs, kindly shared by Hans Knot.
Water in the record library. Photo by Marc Jacobs, kindly shared by Hans Knot.
Water was getting in and the Dutch DJs and crew, believing the ship to be in danger of sinking, abandoned her on a tender. The three English DJs (Ed Foster, Mark Lawrence and Tom Anderson), together with engineer Peter Chicago, decided to stay on board. They were in for a long night. The generators failed for a while and everything became totally water-logged. When the weather finally calmed down, they set to mopping up and bailing out. These four brave men probably saved the station. If they had abandoned ship, the Mi Amigo could have been claimed as salvage. Indeed an official boat did go out to check whether the radio ship was still manned. To add to their problems the tender, which had stayed nearby overnight, managed to knock a hole in the side of the ship.

The Mi Amigo remained stuck on the sandbank for some days. Eventually a tender was able to pull her clear. The ship attempted to steam back to the normal anchorage under her own power but the engine failed. It was the last time the Mi Amigo's engine was ever used. The tender towed her the rest of the way.

After nearly a week of silence both stations returned to the air on Thursday 16th September. Radio Mi Amigo reopened on 1187 kHz (259) first with some non-stop music then, from 9am, proper programmes. At that stage none of the Dutch DJs had returned to the ship so only the pre-recorded shows could be broadcast but, with the Caroline guys still on board, their normal schedule was able to resume that evening. Their first record was Thin Lizzy's The Boys Are Back In Town. Because of water damage to the transmitter the 1562 kHz (192) service did not return until 22nd September. The hole in the side of the ship was welded over and work continued to erect a gantry to hold an emergency anchor.
Ed Foster reopens Radio Caroline on the evening of 16th September 1976. This is an edited version of a recording available from www.azanorak.com. Our thanks to Ray Robinson (duration 2 minutes 59 seconds)
The following year the station began publishing the Caroline Newsletter. The first issue contained an article by Ed Foster in which he described the dramatic events of September 1976. His article is reprinted over the page.

That summer in the Netherlands a number of people were fined and given suspended prison sentences for servicing and working on the ship. In September forty-one people were prosecuted in Belgium too. All were found guilty.

A number of new DJs, including some who would stay with the station for many years, joined Caroline during 1976: Mark Lawrence in February, Stuart Russell in May, Tom Anderson in June, Stevie Gordon in September, Roger Mathews and Mike Stevens in November.
Stevie Gordon on Radio Caroline's lunchtime show, 27th October 1976. This clip is taken from a recording posted on The Offshore Radio Club Forum by Paul de Haan. Our thanks to him (duration 3 minutes 1 second)
Mike Stevens on Radio Caroline from the afternoon of 14th November 1976. This clip is taken from a recording kindly provided by Richard Gleave (duration 3 minutes 34 seconds)
In November Wavelength magazine published the results of an audience survey carried out by National Opinion Polls. This showed that Caroline had 2,360,000 listeners in the UK - the country's second most popular commercial station. Together with half a million listeners on the Continent and those under the age of 18, who were excluded from the survey, Caroline claimed a total audience of 5 million. In a renewed effort to sell airtime, a sales office was opened in Spain.
Back to part six.
The All-Time Album Top 50, as broadcast in March 1976, is here.
Ed Foster's article about the ship's grounding is here.
Part eight of 'Caroline In the 70s' is over the page.