On 23rd February 1974 the idiosyncratic Radio Seagull was replaced by the more familiar Radio Caroline. Although the same DJ voices were introducing the records, and the music was still album-based rock rather than pop, the choice of tracks was now more consistent and, from the end of March, a Top 40 album format was introduced. Whereas Seagull had played an exceedingly wide selection of music, even delving into the realms of jazz, classical and comedy records on occasions, Caroline now stuck firmly to 'superstar' rock album tracks. Although a disappointment to those who had enjoyed Seagull's eclecticism, the change worked. The audience figures grew encouragingly.
Andy Archer reopening Radio Caroline on 23rd February with Johnnie Walker's Man's Fight For Freedom speech from 1967. Recording shared on www.azanorak.com by Paul Welton. Our thanks to Paul and Ray Robinson (duration 1 minute 7 seconds)
On 3rd March, Peter Chicago had to interrupt the programmes of Radio Mi Amigo to ask for assistance from land as two crew-members, Peter van Dijken and Jaap de Haan, had suffered burns, following a fire in the engine room.
Peter Chicago appealing for help on the morning of 3rd March 1974. Recording courtesy of www.azanorak.com. Our thanks to Ray Robinson (duration 2 minutes 6 seconds)
The original Radio Caroline had begun on Easter Saturday 1964. On Easter Saturday 1974 at 12 midnight a special programme was broadcast to mark and celebrate a decade of revolutionary radio (admittedly with a four year gap in the middle). One of the highlights of the show was a pre-recorded interview conducted by Peter Chicago with one of the first, and most famous, Caroline DJs, Simon Dee. Many nostalgic recordings from the archives also got an airing. Although the stations of 1964 and 1974 had very little in common programme-wise, Caroline was still blazing a trail and had become a unique institution.
Part one of Peter Chicago's interview with Simon Dee on Radio Caroline, Easter 1974. The voice at the start of the tape belongs to Bob Noakes (duration 6 minutes 19 seconds)

Part two of Peter Chicago's interview with Simon Dee. Recording courtesy of www.azanorak.com. Our thanks to Ray Robinson (duration 8 minutes 31 seconds)
In May a survey revealed that the station had one million listeners in Britain. The following month two DJs, Graham Gill and Robb Eden, moved from Radio Northsea to join Caroline.
On Saturday 1st June 1974 the Free Radio Campaign organised a boat trip out to the mv Mi Amigo. They arrived around 7pm, during Graeme Kay's Radio Mi Amigo show. Andy Archer welcomed them from the deck. Recording kindly shared on The Offshore Radio Club Forum by Hans Hendriks. Our thanks to him (duration 4 minutes 40 seconds)
The outer sleeve of the Loving Awareness LP. ©More Love Records.
In June, on the summer solstice, Radio Caroline held a 'Festival of Loving Awareness' at Stonehenge in south-west England. Loving Awareness, or L.A, was a concept originated by Ram Dass (born Richard Alpert), an American spiritual teacher and contemporary of LSD-guru Timothy Leary. The idea was embraced by Radio Caroline's owner Ronan O'Rahilly and slowly it took over more and more of his station's airtime. He decided that the concept of love was to be given the 'hard sell' on Caroline. He even issued a record, the Loving Awareness album, performed by a new group he had initially intended to call The Beatles. After an outcry from fans of the real Beatles, this group quickly changed its name to The Loving Awareness Band. These talented musicians (Norman Watt-Roy, Charlie Charles, Mickey Gallagher and John Turnbull) later became the basis of Ian Dury's Blockheads. Although some people felt uneasy about Caroline's promotion of its owner's personal philosophy, over the years it just became accepted as part of the station sound.
A few of the many Loving Awareness and station promotions that Mike Hagler made for Radio Caroline in 1974. Taken from the Offshore Echo's cassette Caroline Masters, used with kind permission (duration 3 minutes 43 seconds)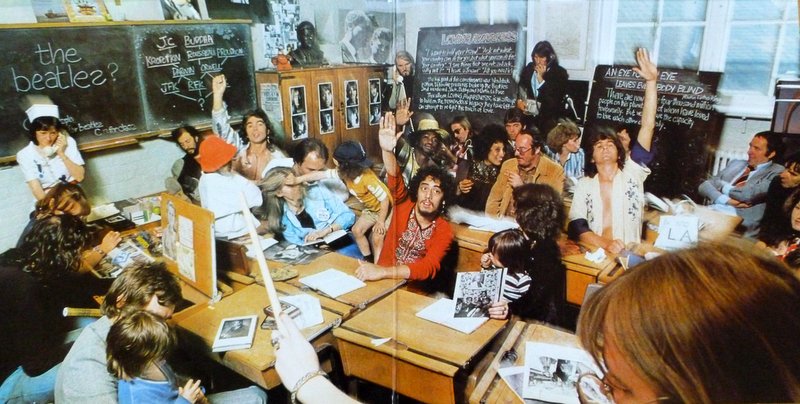 Inside the gatefold sleeve of the Loving Awareness LP. Note Ronan O'Rahilly, at the centre back, and references to The Beatles and Kennedy. O'Rahilly was fascinated by the Kennedys. ©More Love Records.
Despite the regular references to L.A, not everything on the 'love boat' was quite as it seemed and behind the scenes a group of current and former staff-members were plotting. Following Charlotte Ribbelink's departure because of illness, two former RNI men, Koos van Duin and Leunis Troost, had taken over the day-to-day running of the station but the conspirators, led by Chris Cary (aka DJ Spangles Muldoon) and Dick Palmer, thought that they could do it better. They had fallen out with Ronan O'Rahilly and were frustrated by what they perceived as Radio Caroline's lack of direction. Chris and Dick began to plan a coup d'état. A complicated plan was devised involving a sabotaged ship-to-shore link, a fake station tender, and a surreptitious move of the Mi Amigo to a position off the Belgian coast. Unfortunately for the conspirators, they were never quite sure which members of staff were on their side and which were loyal to O'Rahilly. DJ Mike Hagler was one who was approached to join the rebellion but he refused. Instead he and Andy Archer broadcast a speeded-up tape message warning the station boss on land of the impending revolt. A boat load of 'heavies' was immediately despatched to the ship and the uprising was nipped in the bud. Without most of the listeners even becoming aware of the crisis, the coup was quietly quashed. Bob Noakes, who had been one of the rebels, was fired and immediately moved to a job with RNI. Caroline, complete with Loving Awareness, continued on its uniquely weird and wonderful way.
Andy Archer puts out an emergency message on 4th July 1974. This was aimed at Roland "Buster" Pearson, editor of Monitor magazine who, true to the name, avidly monitored the offshore stations. Andy wanted Buster to pass the message on to Radio Caroline founder Ronan O'Rahilly that some of the staff (and former staff) were planning to take over the ship. Recording kindly shared on the Internet Radiocafé, now known as the Radiotrefpunt (radio meeting point) forum by Vincent. Our thanks to him (duration 1 minute)
Andy Archer's emergency message slowed down to normal speed. Thanks to Herman for cleaning up the audio (duration 54 seconds)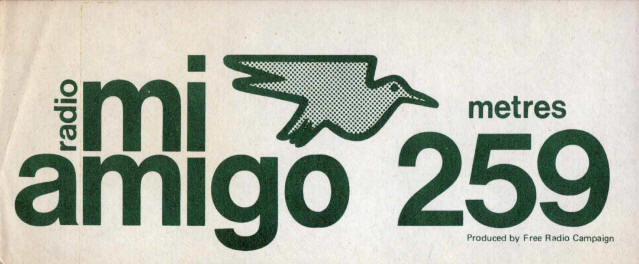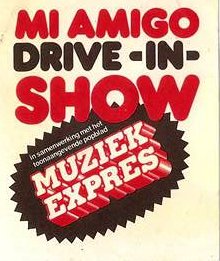 While not the money-spinner that the rebels thought it could be, the station was doing pretty well. The day-time service, Radio Mi Amigo, was very successful and was paying all the running costs. Caroline was also carrying a few adverts of its own for various record companies and there were some paid-plays. Although not rolling in cash, the station was at least making a living and the staff were enjoying a much more pleasant existence than previously. One of the senior DJs, Andy Archer, has written a very entertaining diary of events from this period. He describes it as "the happiest time of my radio career".

Unfortunately that happy time was about to come to an end. On 12th August 1974 the Dutch Government announced that its anti-pirate legislation would come into effect on 1st September. Caroline immediately announced that it would, of course, defy the law and continue - the only station to do so. On 29th August Radio Mi Amigo closed down for the night as usual but Radio Caroline's evening service did not begin - due to "a labour dispute".
Peter van Dam closing Radio Mi Amigo for the night on 29th August 1974 but, as Tony Allan announces, Radio Caroline is unable to broadcast its normal programmes due to "a labour dispute". Recording courtesy of the Offshore Radio Archive (duration 3 minutes 3 seconds)
The "labour dispute" only lasted a few hours and programmes resumed later that evening but no mention was made of the fact that the ship was on the move. The Mi Amigo's anchor had been raised and she was on her way to Britain. Initially she sailed under her own steam but, when this proved to be too slow, a tug was employed to tow her. On the 30th, at 3pm, the Mi Amigo dropped anchor at her new position, about twenty miles off the British coast in the Knock Deep channel of the North Sea, sheltered from the worst excesses of the weather by two sandbanks. She had come home. Radio Caroline's programmes that evening mainly consisted of taped shows, disguising the lack of on-air staff aboard.

Click on the headline above to see 'Record Mirror's' reporting on the Dutch legislation and Caroline's return to the British coast.

On 31st August, as the new Dutch act approached, Radios Veronica, Atlantis and Northsea all closed down. At midnight on Radio Caroline, as the Fortunes' theme tune faded away, DJ Tony Allan, on behalf of all the Caroline family, proclaimed "we love you". Seven years previously Johnnie Walker had broadcast a very similar message. Then, as now, the Beatles sang All You Need is Love. Once again Caroline was alone - one small ship against all the governments of northern Europe.
With all the others departing, crew-member Peter Haze and DJ Tony Allan are the only broadcasters left on board as Caroline enters a new era on 1st September 1974. Tony says hello to some friends and dedicates Tim Hardin's Simple Song Of Freedom to Mr van Doorn the Dutch minister with responsibility for broadcasting who has just outlawed the offshore stations. Recording from the Offshore Radio Archive (duration 4 minutes 45 seconds)
As before, a number of the established DJs left but others took their place and the station continued broadcasting. Radio Mi Amigo moved its base to Spain, and also took care of forwarding Radio Caroline's mail. As far as the listeners were concerned, it was business as usual but the station was now a total outlaw. Life had just got a whole lot more difficult.
RADIO CAROLINE PROGRAMME SCHEDULE AUTUMN 1974

8th-26th September 1974
8th-30th October 1974
17th-28th November 1974


7.00pm Johnny Jason
10.00 Tony Allan
1.00am John Mair
4.00 Clive Correll, Peter Haze or Peter van Dijken (-06.00)


7.00pm Johnny Jason
10.00 Andy Archer
1.00am John Mair
4.00 Peter Haze
4.30 Mickey Mercer or Clive Correll (-06.00)

All times BST/CET.



7.00pm Dave Owen
10.00 Tony Allan
1.00am Dave Owen
EITHER 2.00 Tony Allan
3.00 Chicago (-06.00)
OR 4.00 Tony Allan (-06.00)